Our Clients
RRU Research is a boutique qualitative recruiting firm operated by a team of expert recruiting specialists. Our unparalleled respondent database and professional screening expertise work together to seamlessly match your needs.
We find respondents who meet every profile. Our experienced staff has the know-how to fill Focus Groups, Tele-web studies, Telephone interviews, Ethnographies, On-line surveys and more.
A selection of our current and past clients includes: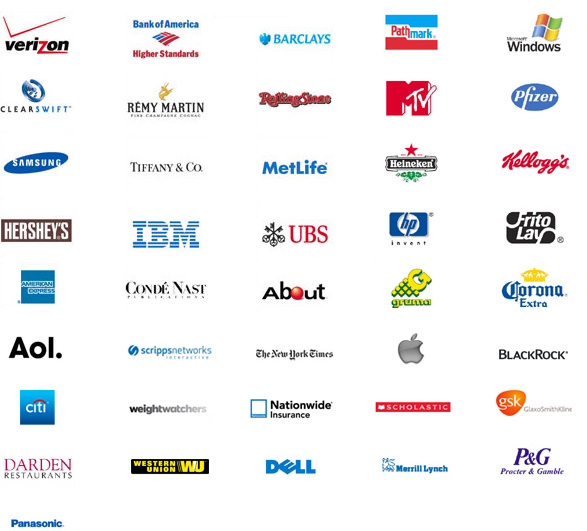 Get in Touch
If you have any questions, feel free to give us a call at 718.222.5600 or email us and we will work to assist you in any way we can.
Newsletter Sign Up
Stay informed about developments within RRU Research and how we may be able to further help exceed your project/research goals! Sign up for our mailing list and begin receiving our monthly Newsletter.
Testimonials
Everything went so well yesterday. Our moderator said our clients were over joyed with the recruit. They said "Finally. This is what our target consumer looks like". I am so happy your team was able to partner with us for this one ☺ Thank you again,
–Stacie, EggStrategy
---
"Outstanding" "The heart of New York" "The perfect amount of diversity in cultural differences and use of cosmetics" "As close to perfect as we could hope for"
–PM, Beauty Care
---
"The Fusion Focus team is excellent and super happy! They provided everything we needed and made our research a lot more fun! Thanks guys!"
–Nick, Creative Medical Research
---
"You guys are awesome. Very friendly staff! Beautiful facility! Thanks so much!"
–Kenny, Interactive Video Productions
---
"Great show rate, great respondents, and great staff! Thank you!"
–Sandra D.
---
"Latasha thank you for your warm welcome and beautiful smile. You made our hours here a pleasure!"
–Hall & Partners Team
---
"Super helpful and got us a fantastic group of users in an incredible amount of time. Thanks for the help and fantastic space!"
–Terrance, Lunar
---
"Thank you so much Latasha for your warm welcome- seamless experience. You make our work a lot easier. Looking forward to the next time here with you!"
–Alix, Delphine & The Brain Value Team
---
"Our project was complex and demanding and you did a perfect job as well as making the experience a pleasure!"
–Sharon B., Brooks-Adams Research
---
"Wonderful two days! Great respondents and wonderful facility. Attentive and personable. Latasha is great!  As always, see you guys soon."
–Maggie, Hall & Partners
---
"Asia, Sue and team! Thank you thank you thank you SO much for the rock star service! Your wonderful hosts are professional, beyond accommodating and proactive. You act with urgency while never sacrificing hospitality- a true partner!"
–Scott, Amanda and the Dell & Greenberg Teams
---
" To the super smiley girls (and Landes), thanks for looking after us so well despite our very regular and numerous requests for over 12 hours!"
–Andrea, Cello Health Insight
---
"Lovely time and great staff! We'll be back soon to use the pink living room!"
–Tommy & Jillian, The Link Group
---
"I especially appreciated the staffs incredible attentive service. You all (especially Shelley) have an instinct for what the moderator and clients need, even before they know it themselves! Thank you for an excellent first time experience here. All was impeccable."
–Marshall, Greenberg Strategy
---
"Thank you so much for being so reactive, helpful and warm! No stress here. Everything was perfect! We want to take all the team  (and Asia in particular) to Paris with us."
–Claire, Cornelia Street Paris
---
"The most lovely, warm and accommodating team. Everyone made my job really easy. Definitely a top facility!"
–Stephanie, Flamingo London
---
–Michelle F., William H. Sadlier, Inc.
---
"Thank you for the wonderful client experience! The recruit was perfect and the attention to our teams needs was top notch! Thanks again."
–Judith R, Godiva Chocolatier, Inc.
---
"Awesome as always!"
–Stacey Y., Aisling Research
---
"Thanks so much for the great hospitality- as always!"
–Greg, Kadence-UK
---
"Thank you guys! The facility is great and I felt completely taken care of. Thank you to Jalae for being such a great manager on the job. Keep it up! Cheers!"
–Priya, Millward Brown – Singapore
---
"You guys were amazing! We were so well looked after. See you soon!"
–Faye, Kadence, UK
---
"Kevin and the RRU Research team made sure we had a successful recruit from start to finish. The team was incredibly proactive in getting us the people we needed and following up on urgent matters. We'll definitely use them again in the future! Thanks all!"
–Rob B., Flamingo
---
"Thank you so much to you and your extended team for all of your help this week! I really appreciate how hands on and helpful (and smiley) the whole team is =). Really looking forward to working with everyone again and hosting many more projects in the facility!"
–Jackie W., Pepperjam
---
"Hi, once again, outstanding recruiting last night and great groups.  Support from the entire team there and in Brooklyn was fantastic.  Thanks so much for making it easy, productive and pleasurable.  I don't have Shelley's email address so please pass this  on to her.  She's a gem!  When I got there yesterday and she already had the watches set up for me I was blown away!  Hopefully, we will get to work together again soon.  Regards, Joe"
–Joe F., Movado Group
---
"I wanted to say thanks for great groups last Friday! Not only did you find us good respondents, my colleagues were raving about your facility. Looking forward to the next one!"
–Sunetra B., Kelton Global
---
"Complete professionals, incredibly fun & modern facility. Everyone here was kind and a pleasure to work with. Highly recommend Fusion Focus!"
–Dana I., Viewpoint Creative
---
"Landes is super cool, patient, and made our time here fabulous!"
–Angela, Talk Shoppe
---
"By far one of the best experiences of our career. The team here made our jobs so much easier!"
–John, Enoch
---
"Landes was amazing! We will be back!"
–Kelton Research
---
"Fusion Focus made our experience so much easier with their customer service and positive attitudes! Thank you!"
–The Link Group
---
"Easily the best research facility I've ever worked in. The staff is attentive and upbeat, the rooms are comfortable, modern and far from bland. My team was made to feel welcome from the moment we walked in the door. Thank you Fusion Focus! Our clients had a great experience and so did we! We will be back!"
–Cory, Ministry of Culture
---
"Thank you Landes! Thanks for being incredibly friendly, helpful, and professional. Look forward to working with you again our next time in town!"
–Fusion Hill
---
"My favorite facility in my favorite city. Mindy and team are so great and Sue always makes us feel welcomed. 100% show rates and excellent respondents. Nice job"
–Tommy, The Link Group
---
"Thank you so much for making our focus group experience so great! You guys are the best!"
–The Link Group
---
"This place was incredible! Home away from home. Thanks again!"
–The Richards Group
---
"Lisa and the entire team at RRU set the standard I hold other recruiters to.  They execute even the most difficult projects with an eye for detail and genuine enthusiasm for what they do.  We completed a recent Ethnography project with them with an extremely low incidence and difficult to engage audience and they delivered a flawless recruit, from start to finish. Lisa was able to accommodate several last minute requests from our clients and secure critical replacements for cancellations without missing a beat - their quick responses made all the difference in our ability to meet our research goals..  My only complaint is that I can't use them in every market!"
–Ashley W., Elevated Roots, LLC
---
"The RRU Research team provide a great end-to-end recruitment service. Everything they and others told me about their facility was true – a great location, first rate facilities and the most friendly staff."
–Andrew G., City Football
---
"Asia and her colleagues were AWESOME!! They took incredible care of us and I cannot thank them enough!"
–Rex, Flamingo
---
"A great time! Shelley was on top of everything. Stellar service!"
–Ola, Firefly MB
---
"Awesome experience- Very happy thank you!"
–Meghan and Tyler, Schierson & Associates
---
"Asia was the most helpful, accommodating and thoughtful host ever! Everything was done to make our stay go as smoothly as possible. Fusion Focus was impeccable. Thank you so much!"
–Hannah, Idea Couture
---
Landes is amazing! He's the best. Recruit was great. Facility was fantastic. Staff was friendly."
–Christina, Panda Ray
---
"Regina and Landes are completely marvelous. They took great care of us!"
–Bethany, Know Me
---
"Remarkably buttoned up and professional staff/facility; Tamara especially. You guys rocked. Best spot in town."
–Boston Market Corp
---
"Everyone has been lovely, extremely helpful and offered seamless service."
–Yilda, Firefly MB
---
"Asia and her team rocks! Thanks for everything."
–Renee, Agency RP
---
"We had great sessions and the team here took amazing care of us. Thank you!"
–Katie, QIC Research
---
" We love the love that we get from you guys! You make long days so much more pleasant by being on top of it!!!"
–Michelle, Rapport Marketing Research
---
"I've been in qualitative market research for a long time and the team at RRU has distinguished themselves like no other!  Again and again you all have taken on challenging recruiting projects for us with superb results.  I am thrilled, and my clients are thrilled.  The beautiful facility and awesome staff are the icing on the cake.  Love you guys and can't wait to work with you again.  You all are rock stars!!"
–Stacey Y., Aisling Research
---
"First time doing groups here, would be back in a heartbeat!"
–Bryan C., Gongos Research
---
"Lovely, supportive staff- Beautiful, comfortable, cheerful setting."
–Barbara, Accurate Market Research
---
"Thank you to a great and attentive staff. Absolutely fantastic!"
–IPSOS
---
"Thanks for great cheese, fruit, and candy. See you again soon!"
–Paul and Katrin, Happy Thinking People
---
"Thanks to all for diligence, care, and smiling. See you soon."
–Ali S., Droplet
---
"Thanks for all your support on making our sessions such a success. You were all very professional and really went the extra mile."
–Jonathan S., IDC
---
"We had a great time at Fusion Focus. Shelley and the team took great care of us!"
–TLE, London
---
"Everything was great! Thank you for the recruiting and onsite support. I look forward to working with you in the future!"
–Denise M., Vital Insights Marketing
---
"Could not be better. Thank you, thank you, thank you!"
–David, Direct Dialogue
---
"Ya'll are awesome! Love the facility and the team."
–Jay S., CEO of Illuminus
---
"Asia was truly fantastic! Very attentive without ever being intrusive. Can't wait to come back!"
–Joe V., Nielsen Norman Group
---
"I was very pleased with my experience working with RRU Research. We had a difficult sample to recruit and they did a great job recruiting a qualified, diverse group that met our criteria. The facility was also perfect for our needs and everyone on site was extremely helpful and professional. I look forward to working with RRU Research again in the future."
–Denise M., Vital Insights Marketing
---
"Thank you everyone for a fabulous job with the recruit-- the respondents were excellent and all 11 groups were full! I was really impressed with how well this project went and appreciate everyone's contribution. RRU isn't scared to take on tough projects with difficult recruits, and they know how to get these projects done. I really trust them as a partner in this business."
–Brittany S., Whitman Insight Strategies
---
"Jalae thank you (and Sue and Asia, and the rest of the crew) for a really first-class evening, you could not have been friendlier, more welcoming or more helpful. You took care of us, and our participants superbly."
–David S., Direct Dialogue
---
"I have been partnering with Maryanne, Sue and their team for many years, and they are my "go-to" people for tough recruiting specs and specialty audiences in New York City. They go above and beyond with every project, taking ownership and responsibility for a superb outcome every time. Their Fusion Focus location is an upgraded experience, compared to more traditional facility spaces. And a special shout-out to Kevin and Jalae—with them at the wheel, I am confident my project is in the best hands possible. Love you guys!"
–Bill B., INNER /BRAND solutions
---
"My first time here and will always come back- this is my new go to in New York! Everything was excellent! Love Asia, she was wonderful!
–Anne R., Added Value
---
"You are all ah-mazing!"
–Johana S., Zeitgeist Research
---
"Thank you so much for a great night and being so wonderful."
–The Magnetic Collective
---
"Asia and crew, you are rock stars! Loved being here and can't wait to come back, see you again!"
–Team Schireson
---
"Thanks for another great project!"
–Mitchell and Beth from The Link Group
---
"Superior experience today…thanks! The level of attentiveness and professionalism was superb! And you handled our many requests flawlessly."
–Hall and Partners Team
---
"FF Team - your client service was exceptional. Thanks very much for your help in a wonderful project!"
–O.B, Gray Matters Marketing
---
"Thank you all so much - everyone was very helpful, our clients were so happy as were we!"
–Jessica G., Horizon Media
---
"My favorite facility ever! Such kind, helpful people in a beautiful space. Couldn't be better!"
–Alina and Lauren, Flamingo
---
"Thanks for a great day! Asia was attentive and helpful!"
–Egg Strategy
---
"Thank you so much for the great service and organization. Everything went very smoothly and the facility is beautiful. We'll be back!
–Holland America Line
---
"Fabulous! Friendly staff, attentive service, and excellent recruiting. Great show rate - Love it!"
–Inside Out Insights
---
"Jalae was wonderful, the whole team was!"
–David W., Firefly
---
"Thank you to all the staff at Fusion Focus - you guys feel like my co-workers!"
–Brittany S., Whitman Strategies
---
"Thank you all so very much! Asia you're awesome. Best facility I've been to in a long time.
–Deutsch LA
---
"Asia and everyone here, you rocked it out! Thank you so very much."
–KarDav Solutions
---
"Great respondents, great smiles, great ideas."
–Flaming London
---
"I have been working with Lisa and the team at RRU Research for just about two years on a pretty continual basis. The work they have done for my team is always superb and takes a lot of the stress out of project planning as I know that the recruits that they provide will always be perfect for the project at hand. The team at Recruiting Resources is friendly, attentive and extremely flexible; often altering recruits for me at the last second and still managing to get the job done."
–Craig P., Weight Watchers International
---
"I want to thank you for your great work last week. I spoke to my colleague and he was very happy about everything. He said: "friendly people, beautiful location and perfect recruitment… So you did a great job! Thank you!"
–Mira W., Haystack International
---
"I just wanted to say thank you for your team's help in running our study last week. We had a great experience, and I was really impressed with the quality of the spaces, and the phenomenal attention by your all of your staff. Shelly and Mindy were extremely courteous and attentive to everything we needed. They anticipated our needs and were always available for anything that came up. I wanted to let you know, because we don't often find such a good combination of staff assistance and high-quality testing rooms. I am happy that Rob & Nancy recommended you to me, and I will certainly recommend your facility to my colleagues."
–Katie S., Nielson Norman Group
---
"I just received a note from the client and she was absolutely thrilled with everything. She said the staff last night were terrific and the recruits excellent. She was very impressed that not only did you pull off the recruit so quickly, but that everything went off without a hitch. I certainly echo that sentiment, everything was perfect!"
–Bj K., Just Worldwide, Ltd.
---
"Just wanted to let you know that everything went extremely well on Tuesday. The recruit was excellent and everyone in the Prospect group felt spot-on (plus, we were really impressed that you guys completed the recruit so quickly and managed to get such a good mix of ages!). Everything onsite was great (the setup and presentation were exactly what we'd hoped for), and Mindy, Shelly, and Asia were fantastic as always. The client team seemed very happy with everything. I'm just sorry I wasn't able to pop by your office and say "hi" (you know how things can get in the backroom)! Thank you so much for your fantastic work, and looking forward to the next project with you guys!! Enjoy the weekend!"
–Tanya S., Media & Entertainment Strategies, Inc.
---
"I wanted to thank you for the PHENOMENAL experience that we had at Fusion Focus in New York last week. As you may remember, my team and I were at your facility all day, from 11am to 9:30pm. Despite the long period of time that we stayed with you, there was never a dull moment. You consistently delivered us exceptional service from start to finish. A few things stand out — your warmth, the delicious food, the promptness with which you fulfilled every request, and the quality of all of the rooms in your facility. Beyond this, you went above and beyond by opening up different rooms for us to use throughout the day and getting additional incentives for our last minute recruits. I felt valued and appreciated by you and your team, and look forward to doing business with you again in the future. We are now conducting focus groups in Dallas and LA, with another vendor (pre-scheduled by our project manager), and all of the members of our team agree that nothing compares to you and Fusion Focus. Thanks again."
–Kylie R., Millward Brown Vermeer
---